Citizenship
Fulfilling our Social Mission
INES is an information services company, responsible for bringing innovations to fast-growing socioeconomic frameworks and contributing to the sound development of an information-intensive society. At the same time, we are keenly aware of our social responsibilities. On the basis of this pride and awareness, we are actively engaged in building a more prosperous society and in nurturing future generations of people.
Supporting Young Musicians
INES provides assistance for activities in the fields of culture, the arts and education. One example of such assistance is our role as co-sponsor of the Pacific Music Festival. The festival is an international music education event with the dual objectives of nurturing the musicians of tomorrow and spreading and developing musical culture. It has been held every summer in Sapporo, Japan, since 1990. The festival program consists of a variety of activities, including the Pacific Music Festival Academy, at which young performers selected through an audition process are taught by world-renowned musicians. Other features of the festival's impressive lineup include numerous live concerts and educational seminars for music teachers from junior and senior high schools.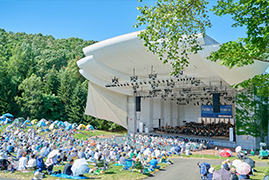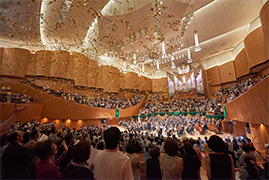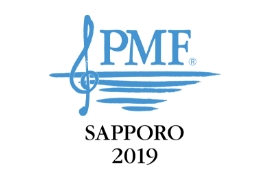 Assisting Young Mathematical Whiz Kids
Japan Mathematical OlympiadINES has supported the Japan Mathematical Olympic Association since the latter's formation in March 1991 under the auspices of Japan's Ministry of Education, Culture, Sports, Science and Technology. Sharing the Organization's commitment to nurturing children with mathematical talents, the Corporation has assisted the Association in hosting the annual Japan Mathematical Olympiad (JMO) and in dispatching a delegation of Japanese representatives selected at the JMO to the International Mathematical Olympiad Competition.